Please see the flyer below for a simple idea on how to support our PTFA whilst doing some of your online Christmas shopping this year. The company will support the school with a donation of 10% on every order placed. Please have a look at their website at www.zanypig.co.uk and if you place an order, enter THUR10 at the checkout.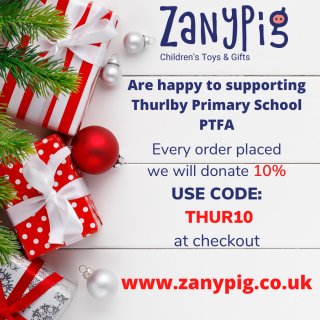 Lottery
Exciting News!!! The PTFA has teamed up with LotterySK!!!
What does this mean I hear you ask… well for £1 a week you could be in with a chance of winning £25,000!!!
The PTFA will get 50p per ticket sold, and the money raised goes towards valuable resources at your child's school.
Please see attached flyer for further details and GOOD LUCK!!!!
Thank you for your support.